In response to the ongoing efforts of the GS1 commercial supply chain standards, Medical Packaging Inc., LLC (MPI) is now adding a Global Trade Identification Number (GTIN) with serialization information to all consumable materials used with the Auto-Print® unit dose packaging system for oral solid medication. Advantages of adopting the standard include MPI's consumable materials can be easily recorded in hospital information systems and reordered utilizing the unique GTIN numbers.
Material Manager is available to all Auto-Print® customers currently running Pak-EDGE™ UD Barcode Labeling Software version 1.2.0 and up. Please note that entry of packaging materials prior to packaging is now required. MPI customers may reference the Pak-EDGE™ UD Barcode Labeling Software help screens for instructions on using the feature when adding materials for your Auto-Print® packaging system.
Benefits of using Material Manager include:
Provide traceability to each individually packaged medication dose
Alerts users to any packaging material recalls
Aid in purchasing and inventorying products
Future enhancements include material ordering system to set re-order points, reminders and online/automated ordering
If using at multiple sites, material must be ordered at each site and cannot be shared with other sites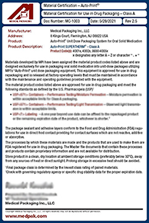 A material certification card with product specific information is placed inside a material order shipment box prior to leaving the MPI warehouse.

The front of the material certification card provides an explanation of the material product codes for the designated materials, including compliance to defined regulatory standards and proper storage methods for materials.

On the back of the material certification card, you will find the item number, lot number and a scannable serial number pertaining to your order of materials. You no longer need to refer to the shipment cardboard box label and have the card to enter the necessary details in Material Manager.
If you experience any technical difficulties while using Material Manager, please send an email to techsupport@medpak.com with an explanation of your situation and a member of our knowledgeable Customer Assurance team will respond to assist with resolving the issue.