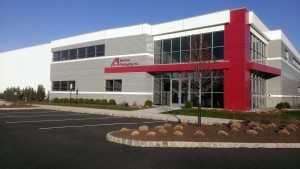 Medical Packaging Inc. (MPI) is pleased to announce that we have moved to our new corporate headquarters, located in central New Jersey. This move is designed to better serve MPI's customers by consolidating all research and development, manufacturing, fulfillment, and corporate operations in a single state-of-the-art campus that will position us for sustainable, long-term growth.
The consolidation of two separate locations and transition to new corporate headquarters offers an open environment designed to maximize collaboration and drive innovation. This expansion supports our increased investment in developing and manufacturing new pharmacy packaging solutions for unit dose packaging and barcode labeling of medication and will accommodate future growth. Consolidating operations into one location allows our company to leverage the combined strength of all of our employees in all departments, enabling greater collaboration and efficiencies that will ultimately strengthen our ability to provide quality customer and technical service to our customers and to develop pharmacy packaging solutions that exceed expectations.
Andrew Bartels, MPI President and CEO notes, "Our new headquarters provides us scalable growth, allowing us to create new solutions and services for our growing number of customers and provides the unique opportunity to further streamline and improve existing operations through combined resources and centralized operations."
MPI's new headquarters is located in a modern 24,000 square foot building with sufficient accommodations for centralized manufacturing processes and product development. A virtual pharmacy featuring MPI's pharmacy packaging solutions has also been created to showcase the innovative packaging solutions and software we manufacture which assist our customers in increasing efficiency, decreasing costs, and improving safety in medication administration.