The rise of integrated delivery networks (IDNs) is contributing to higher-quality patient care, better patient outcomes, and other positive trends in the United States healthcare industry.
These trends reflect how IDNs make it easier for healthcare facilities to provide patients with comprehensive treatment at a lower cost. IDNs provide a variety of services within their network, including treatment of chronic conditions, acute care for injuries and illnesses, and attention to other health issues.
IDNs have been an important contribution to growth and development in the industry, offering important benefits while also facing certain challenges and difficulties. But what exactly is an integrated delivery network? And how can we increase safety and efficiency to truly maximize the benefits?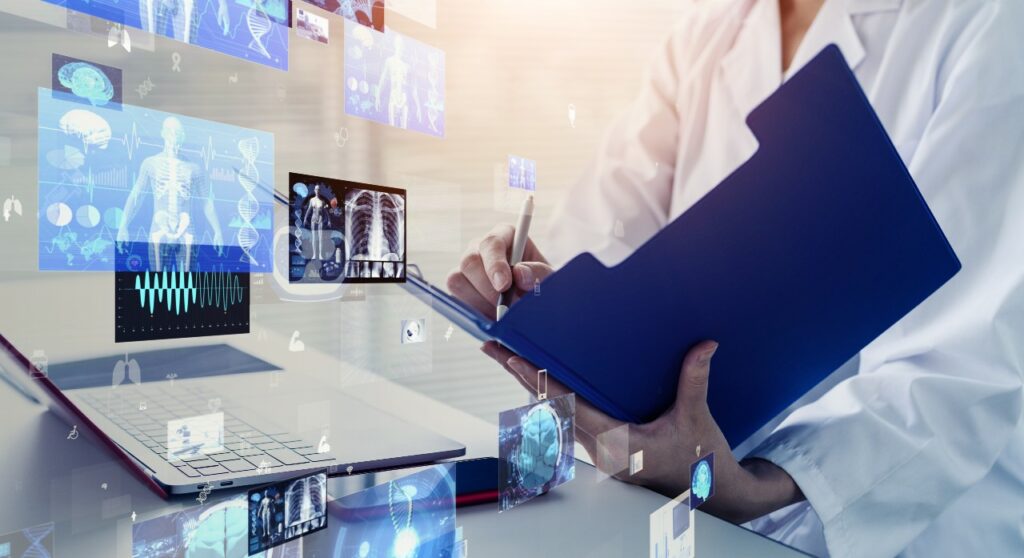 What Are IDNs?
IDNs are healthcare networks that are made up of a group of healthcare providers. These systems own and operate a network of healthcare facilities, which can include several types of outpatient and inpatient facilities, such as hospitals, health clinics, physician groups and practices, ambulatory surgery centers, imaging centers, and more.
IDNs provide healthcare services in a specific geographic area. For example, Intermountain Healthcare offers services in the Intermountain West region of the U.S., including Utah, Nevada, and Idaho. Partners Healthcare, now known as Mass General Brigham, offers healthcare services in the greater Boston area. And Baylor Scott and White offers health services in Texas. Other, large IDNs can offer healthcare services in a variety of regions. On a larger scale, Kaiser Permanente is able to operate in eight different states while Ascension Health can be found in 19 states.



Types of Integrated Delivery Networks
Various levels or types of IDNs exist. These organizations are categorized based on factors such as how many healthcare facilities are included, how they make strategic decisions on healthcare costs, care coordination, and other aspects of healthcare delivery. IDNs fall under one of the following categories or levels.
1. Horizontal Integration
Horizontal integration IDNs, or System II IDNs, typically include multiple hospitals, although some include other kinds of healthcare facilities as well. National or regional hospitals can be part of these healthcare systems. System II networks can also include state, government, and even investor owned IDNs.
2. Vertical Integration
Vertical integration, or System III IDNs, includes a wide range of different healthcare facilities and medical centers. This type of health system focuses on providing a care continuum for a patient population that includes all ages. System III networks offer care that allows patients to stay within the system throughout their lives, from pediatric care to geriatric care. In addition to primary care and specialized care, healthcare services that are often part of these networks include prenatal care, hospice, and assisted living. Community health IDNs typically fall into this, as well as academic health systems and faith-based health systems.
3. Strategic Integration
Strategic integration IDNs, or System IV IDNs, also use vertical integration to share healthcare resources equally among all facilities rather than focusing on one kind of facility. However, System IV networks use a complex approach to managing healthcare delivery and making decisions that involve different aspects of these systems, such as purchasing decisions.



IDN Benefits
IDNs provide important advantages in terms of patient outcomes and healthcare delivery. These networks can offer the following benefits, whether they are classified as System II, System III, or System IV.
High-Quality Care
IDNs have a distinct advantage over the accountable care organization model when it comes to providing high-quality care. With a wide network that connects valuable resources and specialties, IDNs are in a unique position to offer improved clinical outcomes. They can contribute to improvements in overall population health and quality care in their existing communities.
Communication
Improved communication is another main benefit of IDNs. These networks have shared electronic health records and centralized provider control, which facilitates communication between healthcare providers or physicians and patients, as well as other healthcare industry professionals. Greater communication enhances proper patient care, whether they come in for an annual physical or for a chronic condition, disease, acute illness, or injury.
Access to Medicine and Specialties
Being part of an IDN often means that a healthcare provider does not have to refer patients to out-of-network providers for specialized services. For example, cancer patients can receive all the care they need within an IDN through their health plan, including chemotherapy or other treatments, nutrition services, and care for other health conditions. Access to medicine and specialties can help improve the healthcare ecosystem.
Market Influence
IDNs have a significant impact on market influence, which can help provide better control over healthcare costs. This can lead to more affordable care for patients to help ensure that they receive the services they need. The strong market influence of IDNs can also result in more efficient healthcare delivery, leading to lower operating costs for hospitals and other healthcare facilities.



Challenges Facing IDNs
While IDNs offer notable benefits, they also face certain difficulties. Healthcare reform and financial challenges are causing more hospitals and other healthcare facilities to consolidate to form these networks. This growth has led to a variety of challenges within everyday operations.
Let's look at the problems that IDNs are facing specific to medication distribution, and how these difficulties are affecting the ability to supply adequate healthcare products across their facilities.
Supply-Chain Issues
Supply chain issues have had an impact on many industries, including healthcare. Shortages of healthcare products have a direct effect on the quality of care patients receive, as well as patient outcomes. IDNs can take steps to minimize the risks of supply chain shortages by turning to trusted sources and establishing healthcare product safety nets to alleviate disruptions in the supply chain.
Incompatible Network Communications
The flow of information and data is a critical part of integrated delivery networks. Managing such large-scale and complex information systems comes with an abundance of challenges and potential for problems. When it comes to investing in these systems, there are various considerations to keep in mind to maintain efficiency. A few of those considerations are usability, network capabilities, and data management.
Increase of Burnout and Exhaustion within Hospitals
With fluctuations and recent upticks in hospital occupancy rates, healthcare workers and executives can, directly and indirectly, feel the effects of burnout. From a staffing standpoint, there are plenty of challenges faced within an integrated delivery network, which can trickle down to multiple operations and affect the level of care provided. Medical Packaging Inc., LLC (MPI) sees this problem within the industry and provides a solution to help alleviate some of the challenges that a lack of staffing can reflect on packaging and distribution. Our solutions save time and resources with the ability to efficiently operate and package, even with a reduced staff.



How MPI Improves Efficiency in Integrated Delivery Networks
As a leader in the industry, Medical Packaging Inc., LLC aims to increase safety and efficiency within IDNs while assisting with some of their challenges. When an organization is looking to maximize the process of medical packaging and distribution, MPI products provide an efficient solution with the following benefits:
1. Network Capabilities
With uniform software across facilities, Medpak's networking capabilities provide an advanced level of consistency, communication, and collaboration across key stakeholders. Our software will meet all industry regulations while connecting your organizations under one centralized system. Staying connected and improving communications can help promote consistency across medication distribution.
2. Avoiding Supply Chain Disruptions
As pharma companies struggle to increase production and overcome supply chain issues, MedPak's solutions make it possible for IDNs to avoid these disruptions. Taking the packaging process in-house helps ensure that IDNs have access to all the medication needed for patients within the system. Our solutions provide any relevant packaging materials, to reduce the reliance on yet another vendor.
3. Promoting Patient Safety
MedPak helps improve patient safety with the ability to package the proper dosage. These products and services help reduce the risk of patients receiving the wrong medication dosage. The use of barcode scanning and FDB technology helps ensure efficient distribution among healthcare facilities in an IDN.
4. Improving Clinical Efficacy
MedPak uses equipment that helps increase clinical efficacy through different methods and applications. A few of these include:
MedPak's barcode labeling solution includes a serialization feature that makes it possible for customers to print unique serial numbers and barcodes for medications in compliance with the Drug Supply Chain Security Act. Check out more pharmaceutical and medication packaging equipment and materials from MedPak.
Learning more about MedPak's unit dose medication packaging solutions can help IDNs better understand how these products and services can advance their operations and help them avoid being impacted by a variety of challenges that come with medication distribution. With these solutions, IDNs can focus on continuing to make improvements to patient safety and provide efficient healthcare delivery.
To learn more about MedPak's unit dose supply method or specific packaging products and services for IDNs, visit our website. Or contact MedPak today to find the packaging solution that best fits your needs.