The National Institutes of Health (NIH) defines a clinical trial as a "Research study where one or more human subjects are prospectively assigned to one or more interventions to evaluate the effects of those interventions on health-related biomedical or behavioral outcomes."
More simply, a clinical trial is a study in which researchers administer medication or treatment to willing participants to test patient safety and effectiveness. Interventions utilized in a trial process can be in the form of medications, surgery, or behavioral therapy.
Key Stakeholders – Who Is Involved in Clinical Trials?
Running a clinical study requires an experienced research team. The size of the team depends largely on the scope of the study and the number of participants recruited. The research team typically includes doctors, nurses, social workers, and other healthcare professionals. These individuals can take on a variety of roles including the principal investigator, research nurse, research pharmacist, study coordinator, and more.
Funding is an important component of all clinical operations, as research can be quite costly. Funds can cover the discovery, development, and packaging processes as well as drug improvements, upgrades, and clinical testing.
Sponsors keep science moving forward by providing funding. These sponsors may include:
Pharmaceutical companies invest heavily in research and development, spending over $83 billion in 2019
Academic medical centers, health maintenance organizations, and other healthcare institutions
Voluntary organizations, individuals, and companies
Where Do Clinical Trials Take Place?
Unlike other types of scientific research that take place in laboratories, clinical trials can take place in a variety of locations, such as hospitals, universities, healthcare offices, and community clinics.
The location of a clinical trial depends on who is performing the study. It is common for clinical trials to take place in several locations to allow researchers to recruit a diverse group of participants.
The Scale of a Clinical Trial
Researchers have traditionally performed clinical trials in North America, Western Europe, and Oceania, which includes Australia and New Zealand. Scientists are increasingly performing clinical trials in other areas of the world. Expanding the global network helps improve the ethnic and genetic diversity of the study participants.
Clinical trials can vary widely in scale to include:
Regional studies held in a small geographic area
National studies, like those performed by the National Institutes of Health
Global studies that include large populations and a diverse participant pool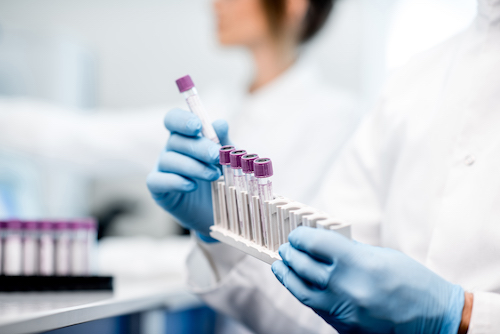 The Drug Development Process
Discovery & Development
Researchers discover new drugs in a variety of ways. They may gain new insight into a rare disease, for example, and use the information to develop a drug that stops or reverses the effects of the disease. Technological advances can lead to the discovery of innovative products that work in new ways, such as manipulating genetic material or delivering medical products to specific sites within the body. Researchers may investigate the unanticipated effects of existing treatments to find out if the treatment may work for conditions other than for what they were originally developed. Scientists may also discover new drugs by testing large groups of compounds to determine if the chemicals have any beneficial effects on the thousands of diseases still awaiting a cure.
Thousands of compounds are potential candidates for development at this stage, but only a handful make it through to development.
The development phase requires more testing to determine:
How the body absorbs, distributes, metabolizes, and excretes the compound
The best route of administration (oral, IV, etc.)
Its effects on different groups of people, such as gender or race
Potential drug interactions
Its effectiveness compared with similar drugs
Clinical Manufacturing
Also known as clinical trial material manufacturing (CTM), clinical manufacturing focuses on producing pharmaceuticals for use in clinical trials.
Manufacturing pharmaceuticals for clinical trials is substantially different from producing medications in the standard healthcare market. Clinical trials typically have a much smaller consumer base that translates into a lower volume of production. Manufacturing pharmaceuticals for clinical trials is also different in that it requires a high level of flexibility – formulation changes and regulatory updates can change even well-established plans.
Product development typically begins when researchers discover an active pharmaceutical ingredient (API). By the time they enter product development, manufacturers have often developed the formulation and dosage of a product, but their clinical trial material may not include a finished drug product. To expedite the process of bringing a drug to market, manufacturers may use drug substances or particle-engineered intermediates for their research while they are developing and finalizing formulations and dosages.
While the FDA does not require manufacturers to include a finished drug product in their clinical trial material, the federal agency does recommend the use of:
Disposable equipment to reduce the risk of contamination
Pre-sterilized containers and materials to reduce the use of specialized cleaning equipment
Closed process equipment to prevent environmental exposure of the drug during processing
Current good manufacturing processes (cGMP) testing laboratories and manufacturing facilities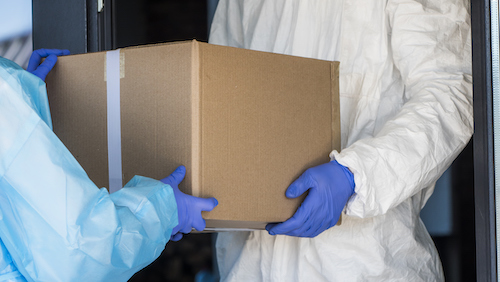 Supply Chain Management in Clinical Trials
Understanding and optimizing clinical logistics ensures clinical trials have the materials necessary to complete the study without interruption due to missing drugs, equipment, or supplies. The key components of the clinical supply chain include drugs, materials, equipment, and packaging.
The Clinical Logistics Market is a huge part of the success of a clinical trial. According to Grand View Research, the global clinical supply and logistics market is projected to reach USD 6.3 billion by 2030 due to an increase in innovation, regulations, and demand in recent years. There are many different logistics solutions on the market, from packaging to storage to transportation, all of which address certain steps in clinical supply logistics and combat key challenges faced throughout the process.
Logistical Challenges in Clinical Studies
Running a clinical trial can be challenging, even for the most seasoned research team. Most recently, COVID-19 has created transport and logistics issues for clinical research. Other factors, such as the availability of raw materials, transportation, packaging, and allocation of medical supplies, can slow or even stop clinical trials.
Cost
As biotechnology and biopharmaceutical manufacturing continues to evolve, they are becoming the focus of clinical trials around the world.
The cost of supplies and equipment, transportation and logistics, regulatory compliance, and complex procedures are increased when dealing with biologics. Creating a cost-effective supply chain can include early incorporation of trial supplies, packaging, and labeling products correctly with dosage and expiry date, and establishing local and international supply pipelines.
Environmental Control
Along with cost, the sensitivity and risk of environmental contamination increase with the use of biopharmaceutical products. These compounds tend to be highly sensitive to temperature ranges and can become easily contaminated. Ensuring environmental control throughout storage and transportation is essential, yet difficult to achieve without the right packaging solutions and strategy.
Regulatory Requirements
Regulations govern multiple aspects of clinical trials, including the development of study protocols, participant selection criteria, informed consent procedures, monitoring of adverse events, and reporting of results. These regulations aim to protect the rights and welfare of human subjects and promote the scientific validity and integrity of clinical trials. Compliance with regulations is critical for the success of clinical trials.
Clinical Packaging & Materials in Clinical Trial Logistics
Packaging and materials are critical components of the clinical trial supply chain, as they ensure the safe and effective delivery of investigational medicinal products (IMPs). Clinical trial materials increasingly handle biologic drugs, often administered via injections and therefore under more stringent packaging requirements than other forms of drugs. What's more, a growing number of clinical trials now use direct-to-patient services, which affects how materials are packaged and makes tracking even more important. Today's packages and materials must balance user requirements and protect the quality of the product.
Creating a Resilient Clinical Trial Supply Chain
A resilient clinical trial supply chain can prevent delays and disruptions. Features of a resilient supply chain include:
Diversity – having several suppliers and transportation affiliates to reduce disruptions in the clinical trial supply chain.
Efficiency – delivering quality, cost-effective, and timely products is a key part of success.
Compliance – ensuring suppliers meet regulations and abide by local and international laws is mandatory.
Traceability – the ability to track the movement of supplies and drugs will promote transparency, efficiency, and confidence in your trial.

How Medical Packaging Inc., LLC Serves The Clinical Trial Market
Medical Packaging Inc., LLC (MPI) is a valuable partner in clinical trial logistics and operations. With complete medication packaging solutions tailored to the unique needs of clinical services, MPI systems promote the highest level of efficiency, compliance, and traceability throughout the manufacturing, transportation, and administration process.
As a leading manufacturer of unit dose packaging and labeling systems, equipment, software, and materials, our solutions help deliver the right medicine and dose to the right patient at the right time. They also aim to minimize possible contamination during the transportation and handling process while decreasing the probability of medication errors and protecting costly products.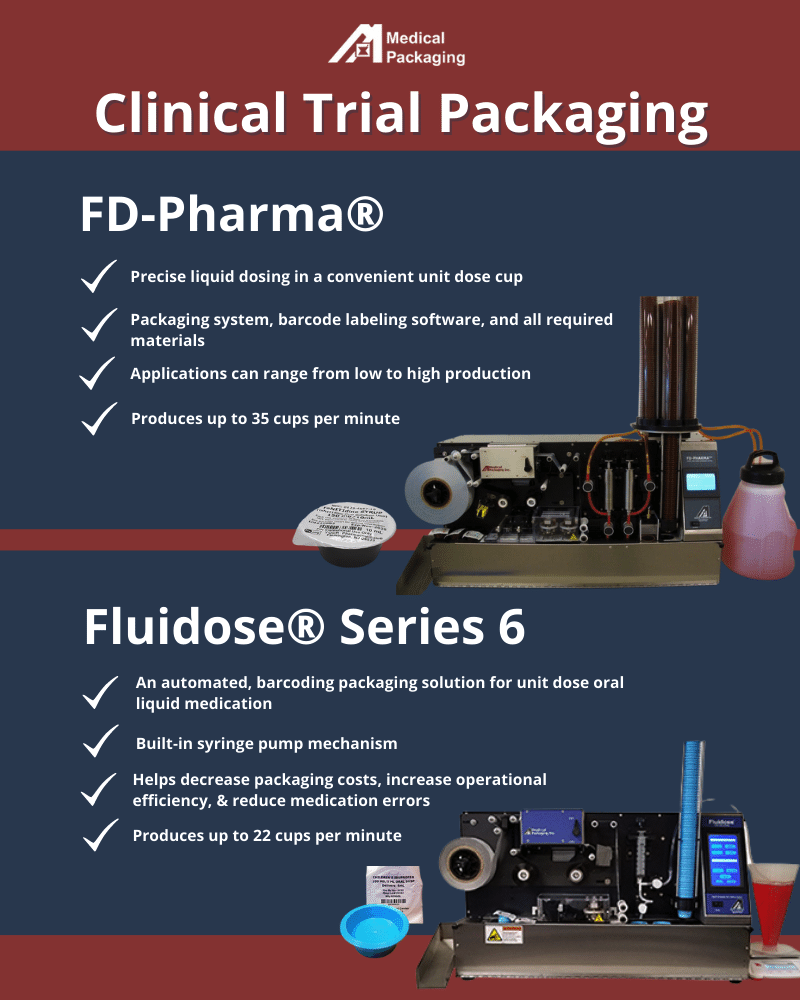 Packaging Solutions for Clinical Trials
MPI's FD-Pharma® Unit Dose Packaging System features a built-in printing and pumping system, which creates an automated, barcoding packaging solution for unit dose oral liquid medication. Along with its small footprint and even smaller price point, this revolutionary approach offers precise dosing of liquid medicine into a convenient, unit dose cup. FD-Pharma®'s production speed can reach up to 35 cups per minute, for top-level efficiency. FD-Pharma® is appropriate for clinical trials of all sizes, low production to full production modes, all in a single machine.
The optional die cut feature brings some unique benefits to the machine as an external device that trims the lidding to the perimeter of the cup leaving one tabbed section.
Stakeholders throughout the clinical trial process appreciate the FD-Pharma® for its ability to slash packaging costs, increase operational efficiency, and decrease medication errors.
Read more about the features, options, and benefits of our FD-Pharma® system.
With a built-in syringe pump mechanism, the MPI Fluidose® Series 6 Unit Dose Packaging System is an automated, barcoding packaging solution for unit dose oral liquid medication. This system is designed to adhere to strict technical guidelines and assure the safe packaging of oral liquid medication while producing up to 22 doses per minute.
MPI-certified materials assure that there is no degradation to the contents and that all medication will be adequately protected from external environment effects, such as light or moisture, and a clear, legible, fully-sealed unit dose package is produced every time.
Packaging that Provides Speed-to-Market Capabilities
Time is of the essence in the drug development, implementation, and testing process. Waiting for critical support files can lead to costly delays.
After completing a Type III Drug Master File (DMF) submittal, MPI is proud to deliver speed-to-market capabilities. Establishing a DMF enables us to rapidly support customers' compliance and filing needs within the pharmaceutical industry as well as meet the needs of pharmaceutical drug manufacturers and contract drug manufacturing organizations (CDMOs) for FDA-compliant liquid cup packaging capabilities.
Contact MPI to Learn More About Our Clinical Trial Packaging Solutions
When it comes to clinical trial components and packaging materials that drive the clinical research process, Medical Packaging Inc. is changing the landscape. For more information about clinical trials, logistics, and packaging materials, contact MPI.