The pharmaceutical industry has made great strides in the past few decades with the development of new medications and technologies for the treatment of different diseases. When it comes to packaging and shipping of pharmaceutical products, the considerations for supply chain are elevated along the way. Pharmaceutical transportation must be efficient and compliant with stringent safety standards to ensure the quality of products is not compromised.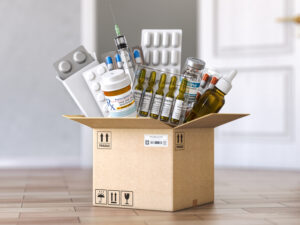 Transporting Medications
Many pharmaceutical companies outsource their packaging and shipping through third party organizations, necessitating a high degree of coordination between parties to maintain compliance with safety standards. Pharmaceutical products encompass a diverse range of commodities, from pills and capsules to tissue samples and everything in between, the handling specifications are just as varied as the number of products. Things such as temperature, humidity, light, and even vibration can cause irreparable damage to sensitive products, which can be expensive, and sometimes fatal to the patients that will receive the medications. Pharmaceutical shipping is among the most difficult supply chain components to manage, and transportation of products must be tightly controlled and considered. Common methods of transportation include ground, train, air, and sea transit. Carriers frequently favor road transit in specially outfitted reefer trucks, due to the need for rigorous monitoring of conditions. Air transportation is faster but is less popular due to a lack of common standards and transparency. Shipping pharmaceuticals by train or sea in dedicated refrigerated containers is also a common method, due to the tightly controlled shipping industry and distribution chain already in place in these areas.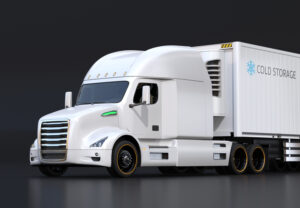 Temperature Monitoring and Control
With 7 in 10 of the top pharmaceuticals in the United States requiring temperature-controlled shipping, the emphasis on cold chain logistics has never been higher. A cold chain is a type of supply chain that deals with transporting perishable, temperature-sensitive goods at their optimal temperature range to prevent spoilage. Pharma transport is particularly difficult, as a change in temperature as small as two degrees Fahrenheit might be enough to spoil a product. Obviously, the longer the distance between manufacturing facility and destination, the more legs the shipment must travel, thereby introducing numerous potential variables. Ensuring optimal temperature control depends on multiple factors, such as type of cargo, method of packaging, required temperature and humidity levels, size of shipment, duration of transit, and environmental conditions. There are many types of temperature monitoring devices and software available on the market, as well as advances in packaging materials and technologies that have been developed to address the need for compliant shipping conditions. Container temperature can be monitored remotely and constantly to track and adjust any temperature fluctuations.
Regulatory Requirements
Because the pharmaceutical industry is vital and delicate, there are numerous regulations and requirements set by different government or regulatory agencies to protect the safety of shipping and storage of products. Standards have been set by all parties involved regarding temperature, packaging, handling, and timing of shipments, as well as documentation during travel. Good Distribution Practices (GDP) is a quality assurance standard for warehouse and distribution centers dedicated to the handling of medicines and medical supplies. The certification ensures that consistent quality management practices are in place throughout the entirety of the supply chain process, from the delivery of raw materials to the manufacturing plants, to the eventual shipment of finished drugs to the wholesale distributor or buyer. GDP is based in the European Union, but GDP standards are internationally recognized. The US Food and Drug Administration developed standards for the manufacturing, storage, and distribution of food and pharmaceutical items under regulations created in 1969. These standards were updated in 2015 to address updates from the Food Safety Modernization Act (FSMA). The FDA provides specific information under Title 21 of the Code of Federal Regulations (CFR) as to the additional regulations surrounding the handling and transportation of any prescription medications.
Proper documentation of handling of medicinal products is a crucial part of maintaining compliance with regulatory standards. Everything from transportation and storage to site inspections and personnel training needs to be properly documented every step of the way. The Drug Supply Chain Security Act (DSCSA) that was passed into law in 2013 gives the FDA greater authority with tracking and regulating compounded drugs. The main priority of this law was to keep patients safe from harmful or counterfeit drugs, while offering a secure way to track the pharmaceutical supply chain from start to finish. Even though the law was passed in 2013, full DSCSA implementation was not set to occur until 2023. Full implementation includes additional requirements for product tracing at the package level, affecting stops along the drug lifecycle. At MPI, we provide a simple solution that can help you prepare for the DSCSA compliance deadline. Our Pak-EDGE® barcode labeling software provides accurate and efficient product labeling with serialization to help you meet DSCSA requirements at the package level. The latest version of this software includes more design features, as well as an enhanced label template that can be used to clearly label products with all the required information for tracking and tracing. 
Supply Chain Visibility and Traceability
Modern technology plays an integral role in the monitoring of pharmaceutical transportation. Having real time visibility to the conditions and location of such delicate and sensitive products is important for stakeholders to be able to react quickly to any deviations. Continuous GPS tracking, along with data loggers or Bluetooth temperature trackers are some of the most common hardware used. Many software systems involved in the manufacturing and shipping of pharma products have integrated functionalities that allow users to receive real time data from shipments. With so many players involved in pharmaceutical distribution and creation, seamless integration of data is key to an efficient supply chain. 
Risk Management and Security
Pharmaceutical shipments are not without risk. Apart from the risks of product damage due to poor regulation of shipping and storage conditions, cargo theft is also a concern. Stolen pharmaceuticals and prescription drugs often find their way into the illegal market. Since most warehouses are tightly secured, and only accessible by authorized personnel, most thefts happen during transit. Implementation of appropriate security protocols are important for the safeguarding of controlled substances. Many pharmaceutical manufacturers contract with third party logistics providers and security agencies to establish secure handling procedures. Utilizing total visibility solutions helps to safeguard valuable pharma cargo throughout the process of transportation and distribution.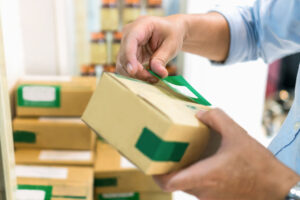 Packaging and Labeling
Proper packaging is paramount to ensuring the safety and viability of sensitive pharmaceutical products. Passive and active cooling technologies are examples of storage innovations developed to keep products at their needed temperature. Actual packaging of the pharmaceuticals themselves is an important part of ensuring that the products get to their  destination unscathed. Choosing the right packaging solution is the first step to delivering an undamaged product. Beyond the packaging itself, appropriate labeling throughout the duration of manufacturing, storing, and transporting pharmaceutical products is necessitated under law to mitigate risk and reduce the potential for confusion. Anyone who works in a medical field knows that labeling medications is a cornerstone of training for one reason: ensuring patient safety. Proper packaging and labeling are important for ensuring the protection of vulnerable pharmaceutical products and medications from both temperature and environmental concerns, as well as the risk of tampering or counterfeiting. 
Medical Packaging Inc., LLC (MPI)
MPI integrates into the pharmaceutical supply chain by providing comprehensive packaging solutions to a wide range of clients in a variety of market segments. We serve manufacturers, wholesalers, repackagers, and many other types of healthcare clients. Our full line of medical packaging products include unit dose packaging machines and barcode labelers for oral solid medications, oral liquid medications, syringes, and more. We also offer a powerful yet easy-to-use software utility for barcode and label design, facilitating inventory organization and helping to reduce medication errors. To learn more about our medication packaging and labeling products, MPI-certified consumable materials, and the custom solutions we provide, contact our representatives today!