To improve drug supply security and reduce the risk of having an illegitimate product enter the supply chain, the Drug Supply Chain Security Act (DSCSA) became law in 2013. This law provides the Food and Drug Administration (FDA) with greater authority for regulating and tracking compounded drugs. The DSCSA also offers a more secure way to track drugs in the United States pharmaceutical supply chain from start to finish. The main goal of this law is to keep patients safe from harmful drugs, which include counterfeit and other kinds of harmful drugs. Although the law was enacted in 2013, full DSCSA implementation is set to occur in 2023. This includes the requirements for product tracing at the package level, affecting stops along the drug lifecycle. Knowing more about DSCSA compliance for each part of the drug supply chain is important to ensure that manufacturers, re-packagers, wholesale distributors, pharmacies, and trading partners are prepared.



What Is the Drug Supply Chain Security Act (DSCSA)?
DSCSA Background
The Drug Supply Chain Security Act, enacted in 2013, offers an approach toward improving patient safety and reducing illegitimate products, such as counterfeit prescription drugs, in the pharmaceutical supply chain. Why was this law introduced? DSCSA is part of the Drug Quality and Security Act (DQSA). DQSA includes two components, Title I and Title II. Title I was introduced in response to a meningitis outbreak at the New England Compounding Center in 2012, which resulted in 64 deaths. Title I is also known as the Compounding Quality Act.
Title II was created to make product tracing easier within the drug supply chain. This includes setting DSCSA regulations on transactional documentation, which is made up of a transaction statement, transaction information, and transaction history. Several other requirements of Title II provide additional guidance. As part of Phase I of DSCSA implementation, all supply chain entities are required to work with authorized trading partners only. Each authorized trading partner is required to give a transaction history to the drug manufacturer and be able to respond to federal agency, state agency, and other system requests to meet verification requirements for illegitimate products.
COVID-19 Exemptions
When the COVID-19 pandemic began in 2020, the FDA made certain exemptions to DSCSA. These include exempting the distribution of drugs for emergency medical reasons from being considered a "transaction" as defined in DSCSA. These drugs were also excluded from being defined as "wholesale distribution." The drugs included in this exemption and exclusion are drugs administered under emergency use authorization and products that have been approved for COVID-19, including for diagnosis, prevention, and treatment.
Main Goals of DSCSA Compliance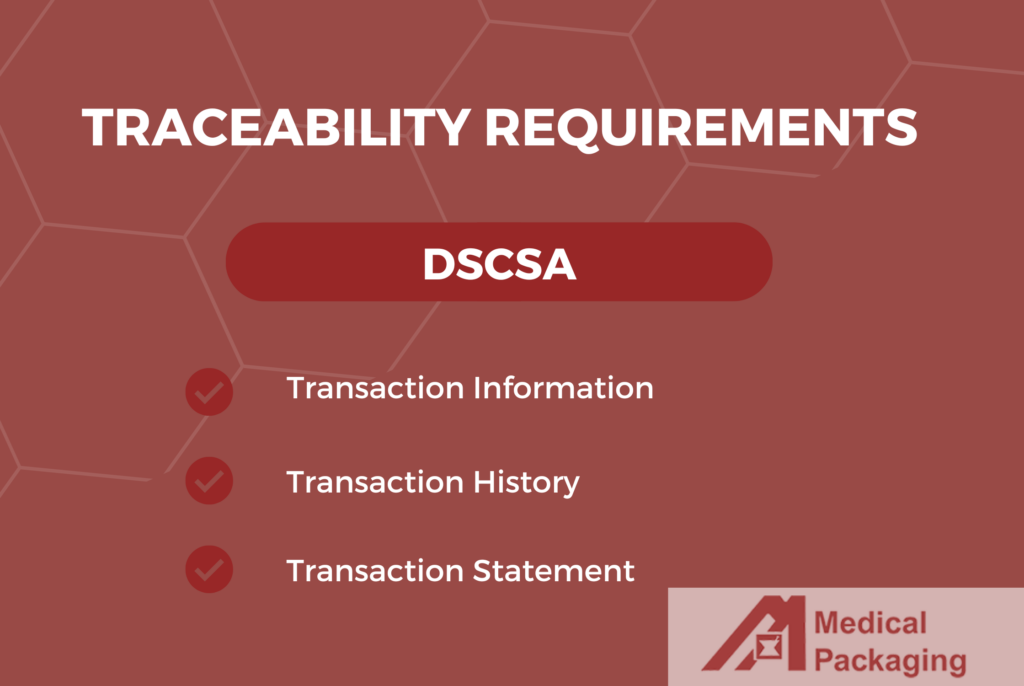 The main goals of DSCSA include improving patient safety, securing the drug supply chain, and minimizing the presence of illegitimate or counterfeit drugs in the supply chain. To better understand these goals, it is important to know more about the key parts of traceability requirements. These include the following:
Transaction information: product name, dosage form and strength, container size, transaction date, lot number, number of containers, National Drug Code, and names and addresses of businesses involved in a transfer of ownership
Transaction history: electronic statement or paper statement for tracing the transaction information for all previous transactions, including drug manufacturers
Transaction statement: electronic statement or paper statement from business that transfers ownership of a drug that includes confirmation that it complies with the Drug Quality and Security Act (DQSA).
Trading partners are required to provide this documentation under DSCSA regulations. Producing this information provides a more efficient way to track and trace prescription drugs and other products in the pharmaceutical industry. Being able to do this helps lower the risk of having patients take potentially harmful drugs that have entered the drug supply chain.



Is Your Organization Ready for the DSCSA?
DSCSA Requirements
Under DSCSA, each pharmaceutical manufacturer, re-packager, wholesale distributor, dispenser or pharmacy, and third-party logistics provider is required to provide transaction information every time a change of ownership occurs. When any of these trading partners has knowledge of a counterfeit or illegitimate product or if there is a recall on pharmaceutical drugs, they must follow certain requirements on how to handle it.
Other requirements of Title II include having the re-packager or drug manufacturer place proper Product Information on every drug package or case, including the Product NDC number, product lot number, product expiration date, and product serialized numerical identifier or serial number. Re-packagers and pharmaceutical companies are only allowed to sell products to authorized trading partners. Trading partners are also required to verify returns before redistributing drugs, and wholesalers and third-party logistics providers must follow national license standards.
Trading partners and other entities involved in the pharma supply chain have been given additional time since the enactment of DSCSA to become compliant. Confusion over DSCSA implementation has resulted in delays with this compliance. As part of Phase II, DSCSA requires an interoperable system of product tracing at the package level. This electronic system requires the following:
Interoperable exchange: All authorized trading partners must share transaction statements and information electronically in a secure manner. This information must include the product identifier on individual packages.
Interoperable verification: Under these verification requirements, trading partners must verify the product identifier at the unit level.
Interoperable tracing: These serialization requirements call for traceability at the unit level that allows individual products to be tracked and traced at any point in the supply chain. This includes the standardized numerical identifier, lot number, and expiration date.
DSCSA For Manufacturers
Starting at the top of the drug lifecycle, identification and tracking are essential from the beginning. Requirements for pharmaceutical manufacturers have been pushed back, although manufacturers are expected to meet the 2023 deadline, along with other industry partners.
To move their product into the market, manufacturers must develop the traceability requirements from the start. Along with the tracking requirements, manufacturers must also work with pharmacies, wholesalers, re-packagers, or third-party organizations in cases involving illegitimate or suspect products to ensure patient safety.
This is the first, but not last stop along the supply chain where Medical Packaging Inc., LLC (MPI)'s Pak-EDGE® UD Barcode Labeling Software solution is key. Additionally, specialty pharmaceutical manufactures will find opportunities in our FD-Pharma® to expand their market base with new capabilities.
DSCSA For Re-packagers
Like manufacturers, re-packaging companies are a key stop in the process and must retain the same DSCSA compliance to maintain relationships with their stakeholders. These organizations must also have a system for identifying and quarantining suspect or illegitimate products, notifying the FDA and other trading partners, and investigating these products. Re-packagers must affix a product identifier on every package or homogenous case.
Many of MPI's re-packaging customers are utilizing the FD-Pharma® solution along with MPI-certified materials that meet several compliance factors including cups and lidding, which we will discuss in more detail below.
DSCSA for Wholesale Distributors
Wholesale distributors must meet the same 2023 deadline for tracing. They are expected to verify each product at the package level, which includes the standardized numerical identifier. These distributors must also avoid participating in transactions that involve certain prescription drugs unless these products have product identifiers.
DSCSA For Dispensers/Pharmacies
As the last stop before consumers, pharmacies or "dispensers" play a key role in supply chain security, especially under DSCSA regulations. These businesses are expected to confirm that any entities they conduct transactions with are registered or licensed. Pharmacies must also help trace drug movement through the pharmaceutical supply chain. This involves receiving transactional documentation, storing it, and providing it as needed. Pharmacies are also expected to investigate cases of illegitimate drugs. This involves determining if the drugs in question are illegitimate and making sure patients do not receive these drugs. Pharmacies must notify trading partners and the FDA about illegitimate drugs.
As with the other partners, our Pak-EDGE® software is the solution to complying with DSCSA changes along with our FD-Pharma® for specialty pharmacies.



Compliance Made Easy with MPI
MPI's Pak-EDGE® software, used with most MPI packaging systems, has a built-in serialization feature that allows customers to print individual packages with a unique serial number and barcode, in compliance with DSCSA. The advanced barcode builder adds fields and delimiters to create complex linear or 2D barcodes. These barcodes may include expiration date and lot numbers or any combination of fields that help an organization comply to tracking regulations. Pak-EDGE® also provides lot traceability for drugs and materials.
The FD-Pharma® is a cost-effective packaging solution to specialty pharmaceutical manufacturers and CDMO's seeking to expand their market base with new and expanded packaging capabilities.
The FD-Pharma® supports clinical trials to early liquid product development and small batch liquid validation runs as well as lower volume full production needs not suited for high-speed packaging lines.
Materials used with the FD-Pharma® system produce FDA complaint packages and meet several other compliance factors:
Cups
Meets the requirements of the Food and Drug Administration regulation 21 CFR 177.1520
Meets USP UV light resistance (Stock colors: Red and Amber)
Lidding
All lidding is produced in accordance with Good Manufacturing Practices and complies with Applicable FDA regulations for most food, beverage, and pharmaceutical product



MPI's DMF Helps Assist in Compliance
Relying on vendors and sub-vendors to obtain regulatory and technical documents will lead to waiting weeks and months for these critical documents and in some cases, delaying the FDA Filing by our customer. With our own Drug Master File (DMF), we have better control during the process and can help customers with a "Speed to Market" approach. The DMF will also help to expedite the application process during a New Drug Application (NDA) or Abbreviated New Drug Filing (ANDA). Click here to read more about MPI's DMF acceptance.



How to Prepare for the DSCSA 2023 Deadline with MPI
At MPI, we provide a simple solution that can help you prepare for the DSCSA compliance deadline. Our Pak-EDGE® barcode labeling software provides accurate and efficient product labeling to help you meet DSCSA requirements at the package level. The latest version of this software includes more design features, as well as an enhanced label template that can be used to clearly label products with all the required information for tracking and tracing.
If you need more information on how we can help your organization prepare for the upcoming DSCSA compliance deadline, please contact MPI. We can provide you with additional details on our products, including the latest version of our barcode labeling software.