Accuracy and adherence are top priorities throughout the pharmaceutical industry. Proper medication administration can greatly affect patient outcomes, and mistakes can lead to serious consequences. 
To optimize the drug distribution process, many organizations are turning to prepackaged medication dispensing. With the right system in place, prepackaged medication can bring industry-changing benefits to many different healthcare markets and their relative patients.
What is Prepackaged Medication Dispensing?
Prepackaged medication dispensing is the process of taking bulk-packaged medications and transforming them into smaller, labeled packages, ready to be administered directly to the patient. For smaller organizations, this process is typically outsourced to specialized repackaging companies, but larger corporations might have the resources to complete the repackaging process in-house. Either way, prepackaged medication dispensing proves to be a valuable and effective way to distribute medication in convenient unit doses. 
The Unit Dose Supply Method
Many prepackaged medication systems are built on the unit dose supply method. Designed to provide patients with the exact recommended dosage of medication, the unit dose method helps to elevate all the benefits the repackaging process provides to healthcare markets. 
A unit dose packaging system can be used to administer a variety of medication forms including tablets, capsules, injectables, and liquids. Unit dosages can also be used to develop a patient-specific treatment that incorporates more than one medicine. Each packet is labeled so that it can be identified until it is administered to the patient. The packaging, which is labeled with detailed information, including the drug's generic name, strength, control number, and expiration date, essentially minimizes contamination caused by the drug's transfer and handling.
Unit dose prepackaged medications reduce the risk of medication errors and improve medication adherence. Controlled substances, prescription medications, over-the-counter drugs, and emergency medications can all be prepackaged for ease of dispensing.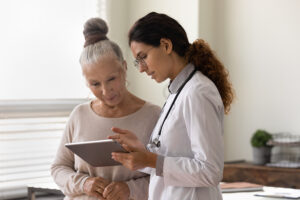 Physician Dispensing
Prepackaged medication dispensing is becoming more common and beneficial in many physicians' offices and clinics. Using prepackaged medications to support your in-office dispensing program gives doctors, medical practitioners, and physicians the ability to supply single-dose, prepackaged medication directly to their patients. 
Although most state laws permit physicians to purchase and dispense medications directly out of their clinic, the process is highly regulated by each state. 
As an additional service, physicians and clinics interested in in-house dispensing will typically partner with a repackaging company. These companies will handle the entire repackaging and labeling process while following strict FDA and cGMP guidelines.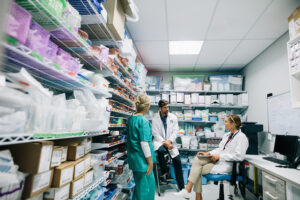 Prepackaged Medications in Institutional Pharmacies
Institutional pharmacies, including those that operate in hospitals or long-term care facilities, tend to experience the repackaging and prepackaged medication process on a larger scale. With more resources and in-house capabilities, these facilities might establish an internal prepackaged dispensing program. The facility will first determine which medications are best suited for the unit dose supply method and plan a system around the equipment, materials, and strategy needed to produce prepackaged medications for patients. 
Smaller organizations or those who cannot allocate the necessary resources will outsource the program, relying on a repackager to provide the necessary medications in their unit dose packages.
Improving Patient Convenience & Medication Adherence
According to the World Health Organization, medication adherence has a direct impact on patient outcomes, even more than the specific treatment itself. Whether caused by forgetfulness or procrastination, adhering to a strict treatment regimen is not always easy, especially for select patients. Prepackaged medication and the unit dose supply method work to increase medication adherence and decrease a large number of preventable deaths.
The convenience offered by prepackaged medication dispensing can benefit every patient but can be especially helpful to administer medicinal drugs to those with a complicated dosing regimen. This can include seniors and at-risk patients. With only the proper dosage, these patients can better understand how many and at what time to administer their prescription drugs, lessening the risk of an accidental overdose and increasing the likelihood of medication adherence. In addition to the patients themselves, prepackaged medication can also benefit nurses and caregivers who might be responsible for managing their patients' or loved ones' medication.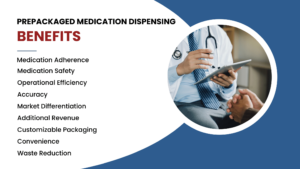 The Many Benefits of Prepackaged Medication Dispensing
As mentioned, medication adherence and safety are two of the major benefits that prepackaged dispensing can bring to both traditional pharmacies and medical facilities. Beyond these two factors, the process can bring a variety of other advancements that are great for both healthcare professionals and patients. These include:
Reduced Waste
Organizations with a prepackaging dispensing process set in place can benefit from a reduction in medication waste when patients receive the exact amount they need and avoid being left with unused medication. Outside of the medications themselves, repackagers and internal packaging departments will also waste fewer materials and supplies on their conveniently smaller doses. 
Improved Efficiency
Overall operational efficiency can be improved with a more convenient, effective treatment process. Having medications on-site will streamline the drug administration process, reducing the workload and time spent on coordinating the right prescriptions, while getting the patient their necessary treatment faster. Outsourcing the repackaging process can also help large organizations better allocate their resources.
Improved Accuracy
Of course, traceability is key in medication dispensing not only to improve accuracy but also to meet regulatory compliance. Many repackaging companies use advanced dispensing software including a barcoding and labeling process, all of which is supported by most pharmacy systems and scanning hardware. Internal repackaging efforts will use this same level of tracking to automate the dispensing process and reduce the risk of error. With compliant and automated efforts that count, sort, package, and label each unit dose, facilities can better avoid the risk of administering the incorrect medication.
Greater Convenience
Convenient solutions that get the right medication to the right patient are something both healthcare professionals and patients can both appreciate. Receiving professional care, treatment, and medications under one roof will streamline efficiency and overall satisfaction throughout the journey. 
Increased Revenue
For offices that do not typically offer medication in-house, a prepackaged medication program can generate additional revenue by providing value-added services and improving patient outcomes. This program can also lead to increased patient satisfaction and referrals, both of which can set your organization apart from the competition and increase market share.
Key Challenges in Physician Dispensing
Before incorporating in-house dispensing in their business model, physicians should consider some key challenges throughout the process.
Regulations & Laws
As mentioned before, physician dispensing is highly regulated by each state. Many states have very different limitations and rules to govern who can dispense, the quantity that can be dispensed, and the labeling requirements. There can also be additional costs for registration and licenses. 
Administrative Burden
Some key decisions must be made throughout the process, but as long as you have the administrative capacity, you should be able to outline and address each concern. One of the major pain points is being able to serve patients with different insurance coverages and stocking the specific drugs covered by each provider. Factors like this are common reasons that dispensing programs will focus on low-cost generic drugs. 
Key Challenges in Institutional Prepackaged Dispensing
Incorporating Prepackaged Medication Dispensing in the Budget
Whether an organization is planning on repackaging and labeling internally or is outsourcing its prepackaged efforts, the administration team will need to budget for the new service. This can include additional costs to meet regulations, the price to enroll in a prepackaged dispensing program, or the costs associated with the necessary equipment and supplies. Before deciding which route to go, it is crucial to map out each scenario and incorporate the extra costs into your budget.
Affecting the Organization's Workflow
Additionally, it is important to assess the impact that the prepackaging will have on staff and patient care workflow. The effect may vary across different organizations and departments. For example, the administration should consider how it will affect pediatric wards differently from areas primarily dealing with adult patients, such as acute care facilities. The medication forms and therefore the packaging equipment and supplies needed in each care market will also be very different. 
Finding the Right Supplies & Equipment
If an organization is taking the repackaging process in-house, they will need to identify the right equipment and partnership to ensure productivity and profitability in their unit dose supply implementation strategy.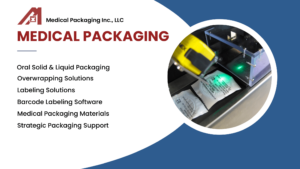 Medical Packaging Inc., LLC (MPI)'s Unit Dose Supply Solutions
Founded in 1971, Medical Packaging Inc., LLC (MPI) has evolved to become one of the world's top unit dosage packaging system manufacturers. We serve a variety of hospitals, long-term care facilities, and other institutional pharmacies to help implement and optimize a successful unit dose supply strategy. We also serve repackagers in their effort to bring efficient, compliant, and prepackaged medications to medical offices through various physician dispensing programs. 
We take pride in producing high-quality pharmaceutical packaging equipment, MPI-certified consumable materials, and our proprietary Pak-EDGE® UD Barcode Labeling Software. MPI, headquartered in Flemington, New Jersey, services customers in North America, Latin and South America, Europe, the Middle East, and emerging countries across the world. MPI aims to be the leading provider of pharmacy packaging solutions that help save patients' lives while boosting productivity and profitability for all clients.
MPI's Pharmaceutical Packaging Equipment
We offer a full range of medication packaging equipment for customers in a variety of pharmaceutical services.
Our Go-To Oral Liquid Packaging Solutions
Our Fluidose® Series 6 is a clear solution for repackaging and in-house unit dose supply systems across the globe. As an automated barcoding packaging system for unit dose oral medications, the Fluidose® Series 6 can promote operational efficiency in a variety of facilities. The built-in syringe pump mechanism makes repackaging oral medications into unit doses faster and easier.
The FD-Pharma® delivers a dose of liquid medication into a precise, convenient, high-quality unit dose cup. Because FD-Pharma adheres to strict regulations set forth by the FDA, the system represents a highly cost-effective solution for low-volume production, development, and validation runs.
Especially in prepackaged medication dispensing, customized labels are key. Our latest edition of the customizable labeling program, Pak-EDGE® UD Barcode Labeling Software 2.0, simplifies access to packaging features, enhances security options, increases library capabilities, and offers additional design elements to users for their medication labeling needs. This program provides a user-friendly interface for all MPI's packaging solutions.
Our systems also include oral solid packaging systems, labeling solutions, overwrapping systems, medical packaging materials, and more. 
Optimizing the Repackaging Process
The repackaging process can be complicated – MPI can simplify it.
Our software facilitates the compliance, traceability, customization, and quality needed to empower organizations to optimize their internal repackaging model or their repackaging services.
For more information on packaging solutions that can support prepackaged medication dispensing, contact MPI.