Contract development and manufacturing organizations (CDMOs) provide a wide range of services to the pharmaceutical and biopharmaceutical industries. These services can range from drug development to clinical trial support to manufacturing and more.
Collaborating closely with clients to bring their pharmaceutical products to market, CDMOs offer expertise in areas such as drug formulation, analytical testing, regulatory affairs, and quality control. They provide this expertise along with flexible manufacturing and packaging solutions to save their clients valuable time and resources. These drug development projects can range from small-scale clinical trials to large-scale commercial manufacturing.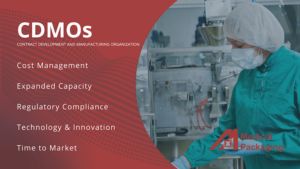 Challenges CDMOs Help Solve
Partnering with a CDMO can help pharma/biotech companies in many ways. A CDMO has access to well-qualified chemists and engineers, professional research and development specialists, experienced researchers, and staff to handle the manufacturing process from start to finish. This can help clients outsource their processes and avoid all the resources, commitment, and costs associated with drug development, manufacturing, and distribution. Here are some of the key challenges a CDMO can help solve:
Cost Management

: Developing and manufacturing pharmaceutical products can be expensive. CDMOs can help their clients manage costs by leveraging their expertise and economies of scale to optimize processes and reduce waste.

Capacity Constraints

: Many pharmaceutical companies may not have the internal capacity to manufacture products at scale. CDMOs can help by providing the capacity needed to meet demand.

Regulatory Compliance

: The pharmaceutical industry is highly regulated, and companies must comply with a range of requirements related to quality, safety, and efficacy. CDMOs can help ensure that their client's products meet these requirements by providing expertise in regulatory compliance and quality control.

Technology & Innovation

:

The pharmaceutical industry is constantly evolving

, and companies must stay up to date with the latest technologies and innovations. CDMOs can help by providing access to innovative technologies and expertise in the latest trends and innovations in drug development and manufacturing.

Time to Market

: Developing and manufacturing pharmaceutical products can be a lengthy process. CDMOs can help their clients accelerate time to market by leveraging their experience and equipment to optimize processes and

streamline development, manufacturing, and approval timelines.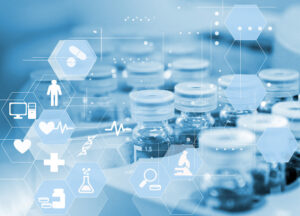 Breaking Down a CDMO's Services
As mentioned, a CDMO can play a variety of distinct roles in the pharmaceutical industry. Each offering is aimed at getting a biopharmaceutical or pharmaceutical product on the market in a timely manner and at a lower cost.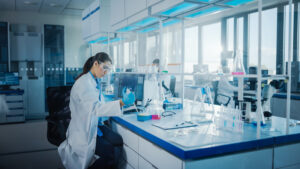 Drug Development
The drug development process consists of many different steps. The timeline can vary widely depending on the specific drug candidate, the scope of the project, and various regulatory requirements. A CDMO will begin by conducting extensive research on the target drug candidate to establish its safety profile and identify potential safety concerns or issues that need to be addressed. Once a drug candidate has been selected for further development, a CDMO will develop the best formulation for the drug. This involves optimizing the drug's physical and chemical properties, such as solubility, stability, and bioavailability, to ensure that it can be safely and effectively delivered to patients. During this time, a CDMO will also perform analytical testing to ensure the quality and consistency of the drug product. The next big step is likely clinical trials, which involve testing the safety and efficacy of the drug in humans. Finally, once the drug has successfully completed clinical trials and received regulatory approval, the CDMO can begin commercial manufacturing of the drug product for distribution to patients.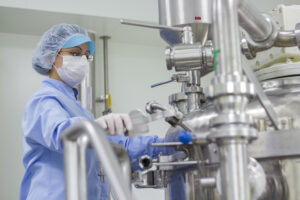 CDMO Manufacturing
Much like development, the manufacturing step is a lengthy process that will depend on the complexity of the drug, capacity, and regulatory requirements. CDMO manufacturing can involve a range of activities including planning, raw materials sourcing, manufacturing, quality control, packaging and labeling, and distribution. Manufacturing will start with close work alongside the client to develop a manufacturing plan and procure high-quality materials, equipment, packaging, etc. Throughout the manufacturing process, extensive quality control testing is performed to ensure the product is safe and effective. The product is packaged and labeled according to client and regulatory specifications before being transported, stored, and distributed.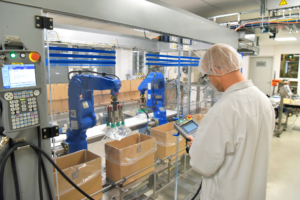 Packaging
The packaging process is an important part of a CDMO's offerings as it ensures the final drug product is safe, effective, and compliant. With the right equipment, tracking, materials, and labeling solutions in place, a CDMO can optimize pharmaceutical or biopharmaceutical packaging to offer more efficiency and higher quality to its clients.
Outlining the primary packaging is a key first step. These can range from bottles to vials, syringes, or blister packs, all of which must be compatible with the drug product and meet regulatory requirements. After the primary package and equipment are identified, the labeling must be integrated into the packaging process. These labels can include a variety of information including name, indications and usage, dosage and administration, contraindications, warnings and precautions, drug interactions, storage and handling, expiration date, manufacturer information, and more depending on the specific drug and intended use. 
If necessary, the drug product may also be packaged into secondary packaging, such as cartons, boxes, pouches, and trays, and additional labeling or instructions are added as required.

Once packaged and labeled, the drug product is stored in appropriate conditions and transported and distributed according to regulatory requirements.
Distribution
A CDMO can play a crucial role in the distribution of pharmaceutical products as well. These responsibilities can range from storage to inventory management to order fulfillment, quality control, regulatory compliance, and customer support. 
Who Benefits from a CDMO Partnership?
Partnering with a CDMO can prove to be beneficial for a wide range of companies in the healthcare industry including:
Startups and small biotech companies

: With high costs and

complex manufacturing processes

, these organizations may not have the resources or expertise to develop and manufacture biopharmaceutical products in-house. Working with a CDMO can provide smaller biotech companies with specialized expertise, larger capacity, navigation through regulatory requirements, and speed to market. 

Established pharmaceutical companies

: Even large pharmaceutical companies can benefit from working with CDMOs, especially for new or niche products that require specialized manufacturing processes or facilities. Outsourcing different steps along the drug development process can assist a company with reducing costs and increasing efficiency.

Contract research organizations (CROs)

: CROs provide research services to pharmaceutical and biotechnology companies. By partnering with a CDMO, CROs can offer a broader range of services to their clients, such as manufacturing and testing, which can help them to differentiate themselves in a competitive market.

Generic drug manufacturers

: Generic drug manufacturers can benefit from working with CDMOs to develop and manufacture their products, which can help them to reduce costs and increase their competitiveness in the market.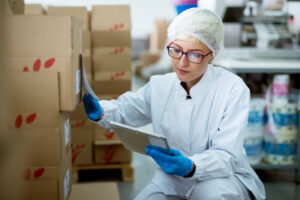 The Importance of Scalability
CDMOs operate for a wide range of organizations and therefore take on projects that vary in scale. From small clinical trials to large-scale manufacturing of generic drugs, the ability to scale operations including development, manufacturing, packaging, and distribution is vital. The following efforts are key for CDMOs to maintain the flexibility required to serve their markets:
Equipment & Facilities

: Drug manufacturing facilities must be designed to accommodate changes in production volume. Equipment and capacity must be flexible to easily adjust and accommodate changes in demand.

Supply Chain Management

: A reliable and robust

supply chain

is essential for any level of drug manufacturing. This includes sourcing raw materials and intermediates, as well as establishing partnerships with suppliers who can provide materials in the required quantities and quality.

Quality Control

: Quality control measures must be in place at all stages of drug manufacturing to ensure that the product meets regulatory requirements and is safe and effective for use. As production volume grows, meeting these regulations might be more challenging. With the right quality control measures in place, a CDMO can ensure they are maintaining quality and meeting regulations on every project.
A Packaging Solution to Scale Alongside Your Development
Medical Packaging Inc., LLC (MPI) serves a variety of healthcare organizations, including CDMOs, by offering the packaging equipment and materials needed to optimize drug packaging while maintaining the ability to scale as your production volume grows.
With complete medication packaging solutions for liquid cup packaging tailored to the unique needs of a CDMO, MPI systems promote the highest level of efficiency, compliance, and traceability throughout the manufacturing and administration process.
As a leading manufacturer of unit dose packaging and labeling systems, equipment, software, and materials, our solutions help deliver the right medicine and dose to the right patient at the right time. They also aim to minimize possible contamination during the transportation and handling process while decreasing the probability of medication errors and protecting costly products.
Our Oral Liquid Packaging Solutions
With a built-in printing and pumping system, MPI's FD-Pharma® Unit Dose Packaging System is an automated, barcoding packaging solution for unit dose oral liquid. Offering the ability to scale from low production to full production modes, the FD-Pharma® is appropriate for CDMOs serving a wide range of clients including those in the clinical trial phase and others with larger manufacturing needs. 
Stakeholders throughout a CDMO's business model will appreciate the FD-Pharma® for its ability to slash packaging costs, increase operational efficiency, and decrease medication errors.
Read more about the features, options, and benefits of our FD-Pharma® system.
With a built-in syringe pump mechanism, the MPI Fluidose® Series 6 Unit Dose Packaging System is another automated, barcoding packaging solution for unit dose oral liquid medication. This system is designed to help CDMOs adhere to strict technical guidelines and assure the safe packaging of oral liquid medication while producing up to twenty-two doses per minute.
MPI-certified materials assure that there is no degradation to the contents and that all medication will be adequately protected from external environmental effects, such as light or moisture, and a clear, legible, fully sealed unit dose package is produced every time.
A Leader in Pharmaceutical Packaging
Establishing the most efficient medical packaging process is a vital step for CDMOs no matter what clients they serve. To maintain expertise, efficiency, and compliance throughout the drug development process, CDMOs can turn to Medical Packaging Inc., LLC (MPI) for a wide range of packaging solutions.
We serve a variety of markets including hospitals, specialty pharma, repackagers, and more with the most efficient and reliable packaging equipment, materials, and systems.
Our full line of products provides a viable solution for companies to streamline and scale their medical packaging process using trusted and federally compliant systems. Explore more of our solutions below:
Packaging that Provides Speed-to-Market Capabilities
Many organizations turn to CDMOs for their speed-to-market capabilities. Time is of the essence in the drug development, implementation, and testing process. Waiting for critical support files can lead to costly delays.
After completing a Type III Drug Master File (DMF) submittal, MPI is proud to deliver speed-to-market capabilities. Establishing a DMF enables us to rapidly support customers' compliance and filing needs within the pharmaceutical industry as well as meet the needs of pharmaceutical drug manufacturers and contract drug manufacturing organizations (CDMOs) for FDA-compliant liquid cup packaging capabilities.

Contact MPI Today
For more information about our medication packaging systems, the type of materials we use, technical questions about our systems, or assistance with your current system, contact our customer success team.